I had the privilege of being the Mystery Guest for Send-In-The-Music's Saturday Jam on October 14, 2023. (This video is only the Mystery Guest portion of the Jam).
Thank you Pat Clark for inviting me...I had a lot of fun! It was like combining a mini-concert and workshop with an extended "About" webpage!
I had a wonderful time participating in a Zoom meeting with Brett Ridgeway and his supporters to talk about Tindle Dulcimers. There were a lot of great questions from the viewers which made the time really fly by! Brett recorded the entire meeting and posted this video on YouTube.
Thank you Brett!
The Beginning
Mark's dulcimer journey began in 1980 in Tulsa, Oklahoma alongside a fledgling local dulcimer club called the Indian Territory Dulcimer Celebration, or ITDC. Through the club he met Sam Compton, a fiddle and mandolin player who was wanting to learn to build violins. Sam already had a few tools in his garage, and encouraged Mark to first try his hand at building a "simpler" mountain dulcimer before trying to tackle guitars and other more complex instruments. Together they built a dulcimer kit, then each built another dulcimer from scratch.
When Mark, who was already accomplished on guitar and banjo, began playing the dulcimer he had built, he fell in love with the personable voice and feel of this so-called "simple" instrument. "The mountain dulcimer was just so easy to relate to that I was hooked and had to do more".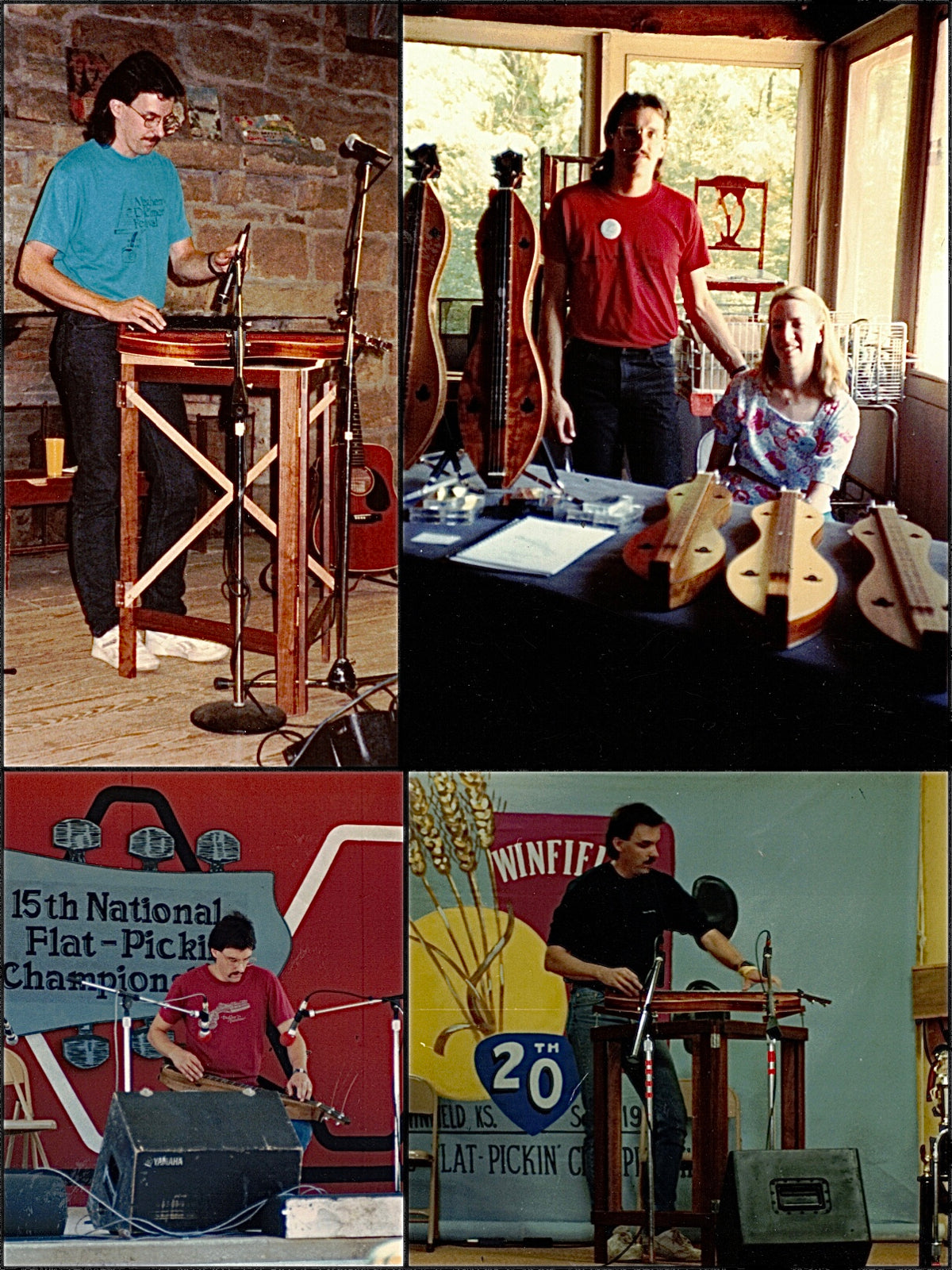 The First Wave
After having established Tindle Music Company in 1982, Mark built a little over 100 dulcimers and recorded half a dozen albums. He also won several playing competitions, including two National Mountain Dulcimer Championships. He performed and taught at numerous dulcimer events across the country and became a respected performer, teacher, and recording artist. During this time, Mark and his wife Melissa also made several moves including time in Maine, Colorado, and Texas before returning to Oklahoma.
"It was a wonderful time of life...but a tough way to make a living".
Raising a Family
After 10 years of marriage, Mark and Melissa decided that it was time to start a family. It soon proved that being a musician and luthier was not an easy way to support a growing family. Mark continued to teach and perform occasionally, but spent most of the next 25 years working in the corporate world and helping Melissa raise six kids. "It was another wonderful season of life filled with joy, laughter, even many struggles, but I wouldn't trade it for the world. Even in the midst of the chaos, I did somehow manage to produce a dulcimer Christmas CD."
The Return
While still working the day job, Mark decided to prepare for his "retirement" career by launching a home-based family business called Solid Ground Stands making hardwood instrument stands. By 2018, SGS was doing well enough to allow him to step out of that day job routine and once again pursue his vocational and musical passions full-time. "Leaving my comfortable, well paying career in the audio-visual industry and going full time into my own business was the most exciting, yet most stressful decision I've ever made...but at the same time the most satisfying and rewarding".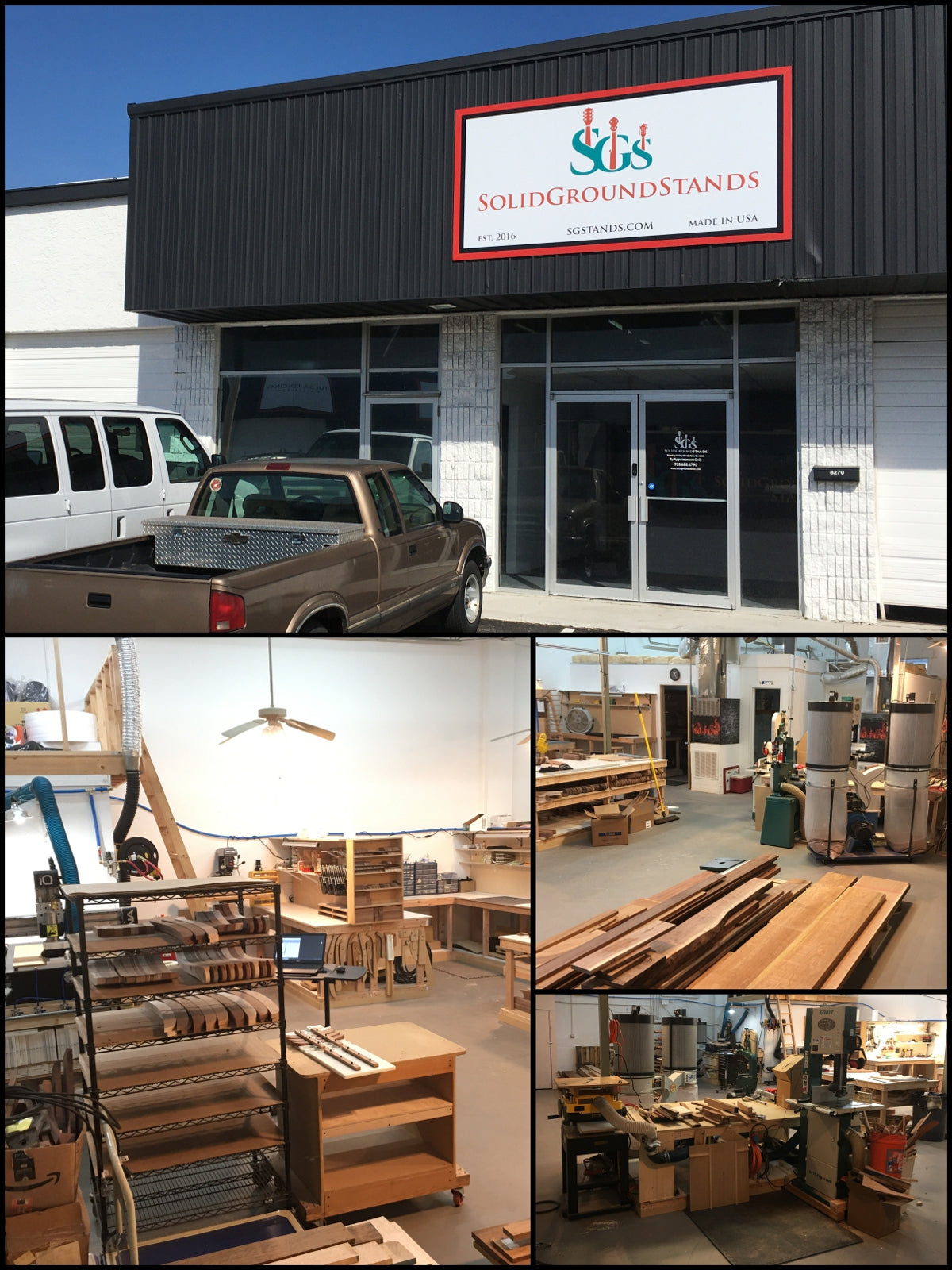 The New Workshop
While recently entering into yet another season of life (becoming grandparents and almost empty-nesters), Mark and Melissa felt the business had grown enough to expand the entire operation into a larger commercial shop space. In addition to becoming the new home of Solid Ground Stands in early 2022, this new workshop also provided Mark the opportunity to build his first dulcimers in over 25 years. "It's kinda like version 2.0…a re-boot, of sorts! My dulcimer design ideas were perculating in my mind for years, but with no real shop in which to work them out. I am so excited now about being able to build dulcimers once again!"
Currently
Mark now operates both Solid Ground Stands and Tindle Music Company side by side in the same workshop. Some days are stands, some days are dulcimers, but all are doing what he loves to do.
"It is a real blessing to be able to build what is essentially fine furniture for musical instruments, but of course my real passion is to make mountain dulcimers and create dulcimer centered music that will hopefully enrich the lives of others, and perhaps inspire them to make their own beautiful music".
Contact Mark
Do you have any questions or comments for Mark? Would you like to find out about Mark building a dulcimer just for you? If so, just fill out the form below.
He would love to hear from you!
Tindle Music Company
8270 East 41st Street - Tulsa, OK - 74145 - 918.688.6790 - info@sgstands.com