"Just as music enriches our lives, I believe the instrument itself should inspire us musically and visually.
As both a player and a builder, I create each dulcimer with this goal in mind". -Mark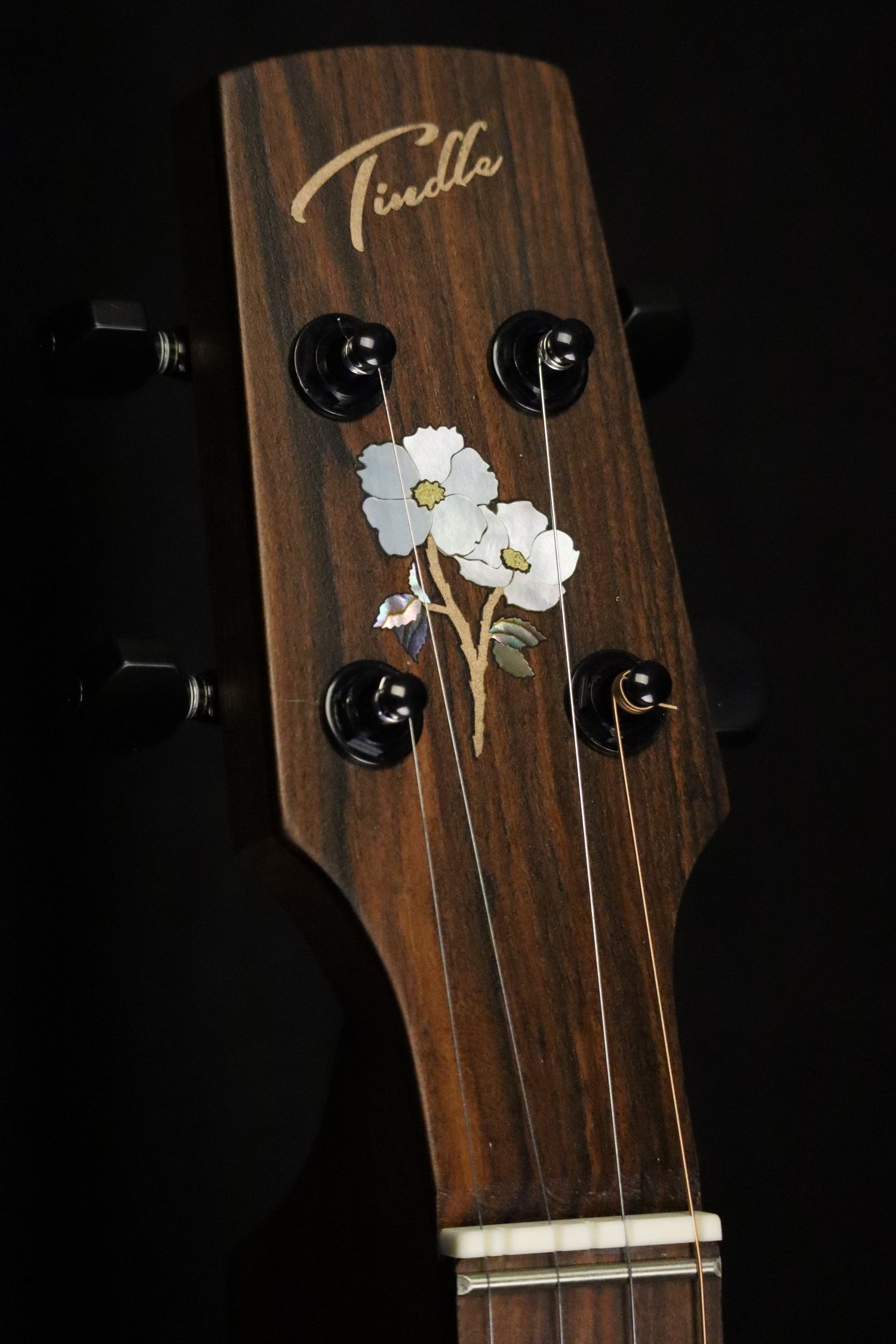 All Tindle Dulcimers include these standard features:
Solid wood construction throughout
Walnut, Cherry, or Mahogany (Sapele)
Bookmatched top and back plates
Rosewood fingerboard
Carbon fiber reinforced neck
Gotoh tuning machines
String slots for 3 & 4 string setup
Bone nut and bridge
Ball end strings
Strap buttons
Hardshell case
Tindle Dulcimers are available in three models (or sizes), each with three trim levels. Additional wood selections, numerous options, and customized features are also available to personalize your Tindle Dulcimer.
While most Tindle Dulcimers are made to order, a few make it through the finish line unsold and are available right here. Click the images for more photos, video demos, and specifications.
Ordering a Tindle Dulcimer
Didn't find what you want in the "Available Now" list? Let me build one just for you! I offer three models (or, sizes), each with three trim levels and other options so you can personalize your own special dulcimer. Follow the links in the "Models & Trim" section below for details and pricing.

When you're ready to order, just follow these easy steps:
Choose the Trim Level - Essential, Premium, or Custom
Consider what other options you may want (like a pickup?).
Contact me to order…the process is easy.
Not quite ready to order? Have more questions? That's OK! I understand there is a lot of information here, so please reach out and let me help. I'll be happy to answer all your questions and even make recommendations, if you want.
Tindle Dulcimers are available in three models, each with three trim levels and other options. Follow the links below for details and pricing.
Tindle Dulcimer Models
The Serenade model is a standard full-size four string mountain dulcimer with a 27" VSL (vibrating string length) and is commonly tuned D-A-dd. See details HERE.
The Sonata has a slightly deeper, lower toned soundbox and is configured as a baritone, commonly tuned A-E-aa. See details HERE.
Trim Levels
The Essential trim level includes many standard features fit for a great dulcimer like hand selected hardwoods, a rosewood fretboard, strap buttons, and a hard shell case.
The Premium trim level includes figured premium-grade woods, as well as hardwood bindings, a rosewood headplate & heal cap, and your choice of several fingerboard inlay patterns.
The Custom trim level includes the very best grade top-shelf woods, black-white-black top purfling, maple leaf headstock & fingerboard inlays, and upgraded hardware.
Customer Reviews of Tindle Dulcimers
What have others said about their Tindle Dulcimers?
"I would highly recommend Mark's dulcimers to anyone"
Irma in New Mexico
"...exceeded my expectations!"
Alan in Georgia
"...excellent quality and beauty..."
Carolyn in Missouri
"...the sound was absolutely amazing!"
Stacey in Pennsylvania
Tindle Music Company
8270 East 41st Street - Tulsa, OK - 74145 - 918.688.6790 - info@sgstands.com